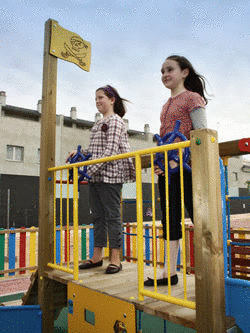 In Urban Enviroment Equipments, we have been working on the design and development of sustainably urban environments since 1995.
As a producer of urban facilities and urban equipments, children playgrounds, games of seniors, sport circuits, healthy & fitness equipments, fitness circuits and outdoor furniture we focus on the children's safety and welfare, meeting the European legislation in force (EN-1176, EN-1177) and, providing calm and trust to installers and consumers.
For us, outdoor space and outdoor game are more than a simply place for family diversion and leisure. That is the reason why our D+R+i department is hardly working on procuring interactive game that encourage children's imagination and creativity.
Furthermore, within our outdoor fun equipments line of products there are healthy games and other equipments for exercising outdoors that invite people from all ages to practice sport. All these exercising machines are totally adapted to elderly people physical needs. There are healthy equipments and games for children integrated in healthy playgrounds that give added value to outdoor spaces, paying special attention to small details regarding outdoor furniture.
As a producer of urban furniture and outdoor playgrounds, we have different designs (2D and 3D), totally adapted, not only to our customers but also to the available space, dealing the security regulations for children playgrounds.
Within our wide range of products, there are different models for rubbish bin (bin manufacturer), waste bin, benches, bike parking, planters, fences, rubber floorings, outdoor flooring, fountains and water fountain, barrier and barriers, pylons, football/handball goal posts, basketball baskets, picnic bench, swing seat, rockers, see-saw, playground slides, outdoor rubber flooring and many other items such as ashtray for public spaces, tree surrounds, lockers… and a great variety of accessories for all of them. There are also long lasting own designs for litterbins, benches, bicycle racks, goal post, jardinières and fences. We deal as urban furniture manufacturer, slide manufacturer, swing manufacturer and playground equipment manufacturer.
Our playgrounds are of a high quality manufacture (HPL) and TÜV certifies all their original designs. Apart from swings, toboggans and balance beams, it is important to stand out our "Bichos" line, of a great international acceptance.
Contact us if you need to develop an outdoor space or playground, as we will be willing to transform your idea into a place for safety and healthy enjoyment.